Summer is synonymous with salads, especially this year. Last summer I was only a couple of months into recovering from SIBO. Thusly,  salads or any raw vegetation, was almost out of the question. I pushed it with fruit, a.k.a vegetation candy, and rather regretted it. So this year, since my digestion has been getting better I've been partaking almost as much as I've wanted. I've indulged so much in fact that I actually hit the point where I wanted to try something beyond the normal salad of greens, carrots, cucumber, with mustard dressing.
Along with a desire to expand my salad horizons I've been looking for a reason to use purple cabbage. Beyond making sauerkraut of course. Purple cabbage is lovely and it's becoming more understood that we should eat a variety of colors when it comes to food – #eattherainbow anyone?
This recipe was a happy accident.  It's the result of leftovers from making another batch of sauerkraut. I had finished salting and squishing my sauerkraut like a good little DIY-fermenter and realized that there was just too much cabbage for my jar. Obviously I couldn't waste it. Also, as it turns out raw salted cabbage is actually quite delicious and it makes purple cabbage – which isn't my favorite – much tastier.
I was really feeling the pull make an Asian-inspired salad. However, I wanted to keep it simpler than many recipes I'd seen online which seem to call for ALL the ingredients in your fridge instead of just a couple. In my oppinion salads, especially those based on a recipe, should be simple and easy to remember – even I don't want to spend a ton of time prepping veggies or continually checking a recipe for accuracy. Also, I prefer salads to not cost prohibitive. Cabbage is seriously cheap and carrots don't break the bank either. So instead of going through my fridge looking for lots of ingredients to throw together, I looked for just a couple that would compliment cabbage instead of hiding it – which is my first instinct with raw cabbage. Cooked is another tasty treat all together!
Thus was born this super tasty recipe! Depending on the region in which you live you might be able to get these veggies locally – and possibly cheaper – in the spring and summer. But do what you want. I'm pretty sure sometime mid-winter I'm going to get a serious craving for it.
The photo above is actually me just playing around as I was prepping to make the salad. I had no idea I'd actually like it. As such it doesn't reflect the actual amounts of ingredients in the full recipe. But who doesn't love veggies photos?
Salads are more versatile than often one thinks. They can make for great for breakfasts, lunches, secondsies, dinners, as main courses, sides, of snacks. One morning for breakfast I used it as a base and simply added two hard-boiled eggs and Trader Joe's Garlic Herb Chicken Sausage. It would probably work with chicken, pork, or seafood. Tell me if you come up with other ideas for protein sources to build out this colorful salad!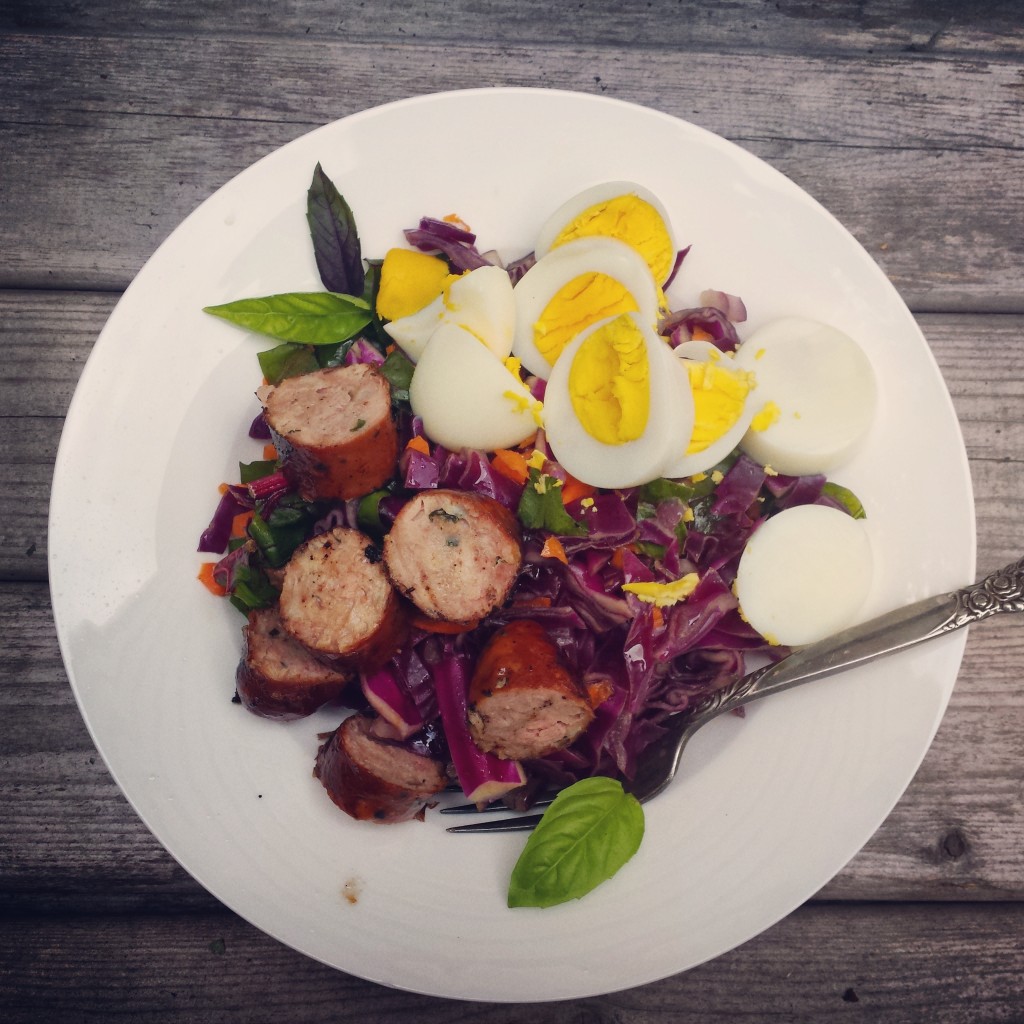 As a final note, if you are having digestive issues, be cautious with any raw vegetables. There is a time and place for them! However, if you are still having a rough time digesting raw vegetation be cautious with this recipe! I speak from experience, it pays to give yourself time to heal.

Asian-Inspired Cabbage and Swiss Chard Salad
Author: Missy
Recipe type: Salad
Serves: 4
Ingredients
4 cups - purple cabbage, thinly sliced
3 cups - Swiss Chard, chopped
¼ cup - red onion, diced
3 large leaves - basil, diced
3 - large carrots, grated
3 tbsp - coconut aminos
3 tbsp - toasted sesame oil
2-3 pinches - sea salt
1-2 sprinkles - sesame seeds for garnish
Optional: pistachios
Instructions
Prep (chop and dice) veggies and basil
Combine all veggies
Add oil and coconut aminos
Sprinkle with salt and toss to combine
Sprinkle desired amount of sesame seeds
Serve!
Notes
If you'd prefer your cabbage a little softer, slice first and sprinkle with a couple pinches of salt. Give it all a good smashing with your hands/fists - almost like you were going to make sauerkraut. Let sit for up to 15 minutes. Combine the rest of the ingredients. Sometimes I'll prep three cups of cabbage in this way and add the last cup of cabbage at the end for a mix of cabbage textures.

Since I'm not always the tidiest cook sometimes I'll throw all the ingredients into a bowl with a lid and give it a good few shakes instead of "tossing" the salad. Less spillage usually.