There are f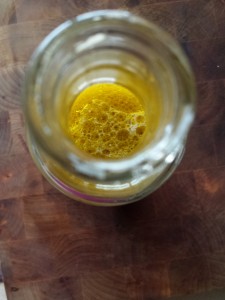 ew things better than a totally awesome salad dressing to go with your totally awesome salad. This dressing is so great that it can even turn a boring salad into something fantastic. Or if you don't like salad and sort of have to make yourself eat it, then this dressing should make that experience better – maybe even enjoyable. Basically, best dressing ever.
I've used it as my standard potluck dressing for a couple of years. Everyone loves it, unless they don't like mustard of course. It's so easy to make it's embarrassing. Seriously, why pay $4 a bottle for organic-paleo salad dressing? Nothing against store-bought dressings but I don't want to have to budget for mine, or ration it either.
Dijon Mustard Salad Dressing
Author: Missy
Recipe type: Dressing
Serves: lots
Dijon Mustard Salad Dressing
Ingredients
½ cup - Organic Apple cider vinegar
½ cup - Olive oil
3 tsp - Natural Value Organic Dijon Mustard
Instructions
Pour all ingredients into a bowl or salad dressing container with a lid and mix well or shake well.
It's so silly how easy it is!
Notes
I save specific kinds of containers, such as the glass coconut vinegar or coconut aminos containers to use for salad dressings. They usually have a pour spout and a lid and will hold up for a long time. But you can use whatever you have on hand!