This recipe was born from my love of chicken and a desire for a tasty recipe that takes almost no effort. Also, I use this as a multi-meal recipe, because leftovers are king for us busy people.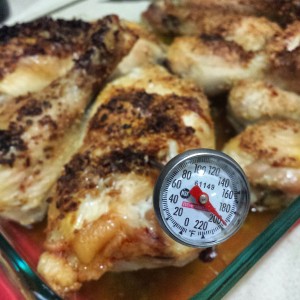 Minced Garlic and Onion "Crusted" Chicken
Author: Missy
Recipe type: Paleo - Multi-Meal
Prep time:
Cook time:
Total time:
Serves: 4-8
Minced Garlic and Onion "Crusted" Baked Chicken
Ingredients
2-4 lbs - Chicken legs or a combination of legs and thighs, or legs and breasts - skin on
1-2 tbsp - Cooking fat of choice - avocado, coconut, or olive oil
1-2 tbsp - Dried minced garlic
1-2 tbsp - Dried minced onion
Pinch of salt and pepper
Optional: ½ tsp of paprika
Instructions
Heat oven to 300 degrees
If using coconut oil melt in warming oven
Pull chicken out of packets
Place chicken pieces in glass baking dish skin up - I often use my 9x13 dish
Pour cooking fat over chicken - use fingers or a basting brush to distribute over all the pieces
Sprinkle the minced garlic and onion over chicken
Put in warmed oven
Check at 45 minutes cooking time.
Dish is done when largest piece of chicken is at 165 degrees
Eat the crap out of it!
Notes
I consider this a multi-meal-recipe. Having left overs makes life so much easier during the work week. However, you can cut this recipe down by half or more and only do 1-2 lbs of chicken legs instead.

Also, try not to be impatient if you think the recipe is taking longer than the prescribed time. I've given a lower oven temperature so that the minced garlic and onions don't burn. They will BURN if you turn it up too close to 350. Longer cooking times can occur depending on your oven, how cold the chicken was when you put it in the oven, how big the chicken pieces are, etc.